Career Industry Corp. is one of Taiwan's leading suppliers and coordinators of paper-core making plants. The company has been in this business since 1982.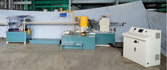 Paper tube winder supplied by Career.
With over two decades of development, the company has installed a couple of hundred paper-core making machines in the global marketplaces, including mainland China, Indonesia, Australia, Malaysia, the Philippines, Vietnam, Pakistan, Egypt, Jordan, Syria, Bahrain, Lebanon, United Arab Emirate, Saudi Arabia, Russia, Poland, Belarus, Mexico, India, Ecuador, and so on.
Career boasts it has won the trust of big conglomerates, including Formosa Plastics Group, Asia Chemical Corporation, Chin Tung Chemical Industrial, Four Pillars Enterprise, Asia Pulp & Paper, New Toyo International Holdings, Yunnan Hongta Group, and Rong Sheng Chemical Fibre Group, all of which use the company's paper core making machines in their production lines.
With strong development and manufacturing capability, Career supplies a very wide range of machinery products to meet the various requirements of global customers . Product series include paper tube-making, paper tube winder, slitter/rewinder, and paper tube-cutting machines, as well as partially-oriented yarn (POY) and drawn twisted yarn (DTY) finishing machines.
Career claims that it has sold more than 200 sets of production equipment to customers worldwide, and due to the superb quality, durability, and multiple functions of the machines, the company has won a global reputation in the international marketplace for quality products and superior services.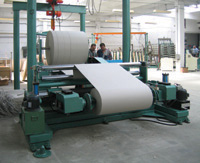 Slitter and rewinder.
In Taiwan, a global production base for many important industries, Career's machines are often the priority choice and widely adopted by leading industrial conglomerates, including Formosa Plastics Group, Asia Chemical Corp. and Four Pillars Co. at their facilities on the island or in other nations. (BS)
Career Industry Corp.
Tel: 886-2-2536-1550
Fax: 886-2-2531-8223
E-mail: career@careerind.com.tw
Website: www.papercore.com.tw