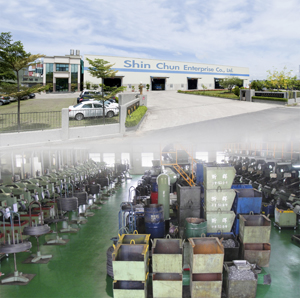 High-precision screws produced by Shin Chun.
Shin Chun Enterprise Co., Ltd., with over two decades of manufacturing experience, has concentrate on the development and production of high-end screws.
With an in-house research and development team, the company is capable of developing and producing sophisticated products to meet special requirements of customers from around the world.
Since its inception, the company has stuck to develop high-end products to cater to the upper market worldwide. That's why its products can be sold to the most critical Japanese market on the OEM (original equipment manufacturer) basis. Other major export outlets include Germany and the Untied States.
The company's products are certified by such international standards as ISO9001, ISO14001 and TS16949. Its major products are collated screws, automotive screws, cap screws, chipboard screws, concrete screws, customized screws, drywall screws, machine screws, one-way screws, self-drilling screws, SEMS screws, self-tapping screws, terminal screws, windows screws, etc.
Over the past few years, Shin Chun has enjoyed constant sales growth as well as new clients from all over the world, prompting the company to expand production capacity by setting up a new factory several years ago. The newly established production facility, measuring 144,000 square feet, is five times that of the old one, allowing the company to streamline production line and accommodate prompt delivery.
Shin Chun Enterprise Co., Ltd.
No. 7, Lane 1, Jiaxin E. Rd., Gangshan Dist., Kaohsiung City, Taiwan 820
Tel: 886-7-621-5998
Fax: 886-7-621-5997
E-mail: paul@sce.com.tw
Website: www.sce.com.tw