In Taiwan, over 700,000 used cars are bought and sold per year, compared to about 400,000 new cars sold a year, creating a market of about NT$300 billion (US$10 billion).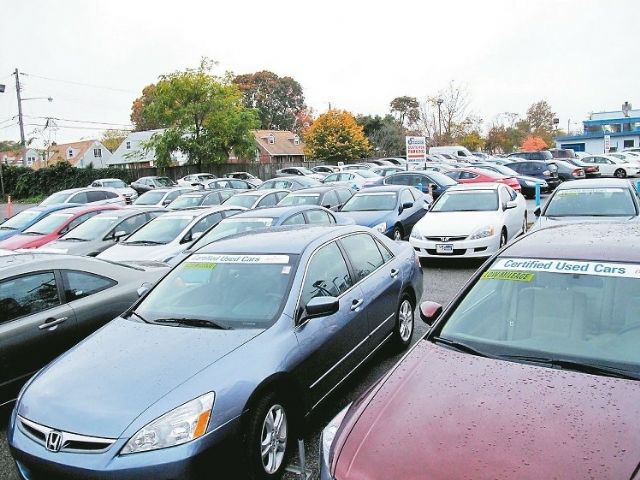 The sizable used-car segment has drawn attention from local auto vendors. (photo from UDN)
Eyeing the growing domestic used-car market, automobile vendors have been aggressively developing such sales channels by tapping the ample supply of cars sourced from new-car distributors and affiliated car-leasing companies in Taiwan.
A recent example is Fortune Motors Co., Ltd., reportedly the largest distributor of Mitsubishis, who has set up the largest local used-car sales chain: SUM Used-car Alliance that includes so far some 400 used-car dealers. Fortune Motors just announced to set up its second brand of used-car chain, EazyCar, which targets integrating traditional used-car sales outlets and an Internet platform to provide real-time information to younger-generation used-car buyers.
EazyCar aims to bring onboard about 200 used-car dealers throughout Taiwan over the next two years, with the total number of alliance members under EazyCar and SUM expected to reach about 700.
Jiang Chan-qui, Fortune Motors' president, noted that Taiwan sees about 750,000 to 780,000 used cars transferred per year, with about 2,300 used-car dealers on the island, 1,032 of which have joined various branded used-car dealerships. Regarding younger-generation used-car buyers (aged between 25 and 39), Jiang added, about 55 percent tend to buy a used car at branded sales channels, to reflect rising demand for branded used-car dealers. As result, he added, Fortune Motors had decided to set up the EasyCar brand targeting mainly younger-generation and online buyers.
Major Used-car Sales Alliances (Brands) in Taiwan

Brand

SUM

EasyCar

SAVE

CarOK

HOT

Member

403

26

212

190

188

Group Background

Fortune Motors

Fortune Motors

Yulon Group

Shung Ye Motor

Hotai Group

Source: The companies

Increasing new-car sales in Taiwan inevitably result in more used cars available on the market to fuel sales over the coming years, Jiang said. Over the next three years, the number of used-car dealers under one brand will increase to about 1,500, with the SUM brand to attract about 600 members. Total annual used-car financing came to about NT$11 billion (US$366.7 million) in 2014 on the island, and the figure may increase to about NT$20 billion (US$666.7) over the next three years, he added.
Another major auto vendor who has developed used-car sales for many years is Hotai Motor Co. Ltd., local agent of Toyota and Lexus, as well as No.1 new-car vendor in Taiwan by volume in the past 13 years straight. The vendor operates its own dealers to sell "certified" used Toyota and Lexus throughout Taiwan; while its subsidiary Hotai Leasing Co., a car-leasing company, has set up the HOT used-car sales alliance and Hotai Easyauction (HAA) to auction used-cars sourced from distributors and Hotai Leasing.
The number of used-car dealers under Hotai has outstripped 200, including 20 to sell certified Toyota and Lexus with annual sales volume of about 5,000 certified models.
To further expand used-car sales, Hotai has also set up an Internet platform, the @abccar, and admitted that the total investment in the web platform equals that to set up two traditional used-car dealers, albeit with amplified benefits to be expected. The Internet platform provides the biggest databank of used-car prices, and has helped assess the residual value for more than 1,000 used cars of registered members. In addition, the used-car website also frequently offers demonstration or executive cars for auctions.
Sinjang Corp., a member of Yulon Group, is an agency, wholesaler and retailer of used cars that used to auction 2,000 to 3,000 used-cars per month during its monopoly of the domestic used-car auction business. To cope with strong competition from Hotai Group, Sinjang established the SAVE certified used-car sales alliance in 2009 to have registered 212 used-car dealers.