Long Tai Yu Co., Ltd.
Control arm bushings, transmission/shock absorber boots, brake linings, etc.

2015/08/05 | By Quincy Liang | LONG TAI YU CO., LTD.
With abundant experience and know-how in the auto-parts industry, Long Tai Yu Co., Ltd. is both a developer and a trader of automotive parts and accessories. The firm is known for providing trustworthy and satisfactory services, top-quality, durable products, and specialized insight on troubleshooting to meet global customers' diversified requirements.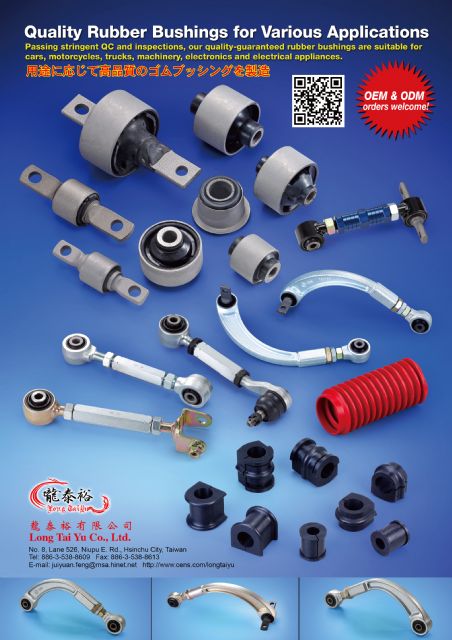 Long Tai Yu's full line of control arm bushings, shock absorber boots, brake linings, etc.
In addition to continuous and steady efforts in developing auto parts, Long Tai Yu supplies a wide range of items, including control arm bushings, transmission boots, shock absorber boots, brake linings, sway bar links, windshield wipers, shock absorbers, among others.
The company stresses that it always insists on supplying fully made-in-Taiwan auto parts of the highest quality and durability assured by its stringent quality-control system. In addition, Long Tai Yu is also confident of its price competitiveness and the unbeatable cost/performance (C/P) value.
Recognizing the rapidly increasing demand for online purchasing, Long Tai Yu set up its own online shopping site--www.autoparts.bnet.tw--in 2007, so as to provide rapid-response and real-time services to customers in every corner of the globe.
Apart from selling auto parts and accessories through the Internet, Long Tai Yu is also very proud of its role as a troubleshooter and consultant online, offering customers reliable info and solutions. The firm welcomes global customers to inquire about more company and product information, and promises rapid response to all types of inquiries.
Long Tai Yu Co., Ltd.
No. 8, Lane 526, Niupu E. Rd., Hsinchu City, Taiwan 300
Tel: 886-3-538-8609
Fax: 886-3-538-8613
E-mail: juiyuan.feng@msa.hinet.net
Website: www.cens.com/longtaiyu