Y.D. Wu (right), PAT chairman, and CENS's general manager Tommy Ni.
As mostly an unsung hero, Y.D. Wu, chairman of the Plumbing Association of Taiwan (PAT), the island's only trade group representing several hundred manufacturers and subcontractors of plumbing, bathroom fittings and products in Changhua, central Taiwan, is in the last year of his second 2-year tenure and has under his belt many achievements that continue to lay the foundation for the industry's sustainable development in increasingly challenging global markets.
Sometimes used by industry experts imaginatively as a collective term for mainly faucets and related fittings, "waterware" continues to be essential in daily life regardless of tech advances as the internet, while production of such products also remains an important traditional industry in Taiwan's Changhua following over a half century of development.
According to ICON Group International, a U.S.-headquartered market research firm, the global market for faucets used in bathrooms and kitchens grew to US$40.6 billion in 2014 from US$39.2 billion in 2013, with Asia commanding a share of 35%, Europe and the Middle East 29%, North America and Caribbean region 22%, Latin America 9%, Africa 4% and Oceania 1%. The market size is expected to keep trending upward in 2015 to an estimated US$42 billion.
ICON Group's reports show that the U.S. is the world's largest buyer of waterware, to have imported US$9.9 billion of such products in 2014 for a 14% share of the global total, followed by China, Germany, Canada and Russia, which imported US$4.93 billion, US$3.49 billion, US$2.72 billion and US$2.21 billion, respectively.
Despite Taiwan being not a top-10 waterware supplier in the global market by share, such products from the island still enjoy solid popularity among end-users, especially those in the U.S. According to data from Taiwan Customs, waterware exports to that market has generally remained at the US$350-400 million level in the past decade, excluding 2009 when exports significantly dropped to only US$280 million due largely to the global financial turmoil. In 2014, the U.S. imported waterware from Taiwan totaling US$450 million for 10%-plus growth from some US$400 million a year ago.
With the U.S. as its biggest export outlet, Taiwan's waterware industry today supplies around NT$50 billion (approximately US$1.56 billion) of wide-ranging faucets and plumbing and piping fittings yearly, over two-thirds of which made locally, and over a half for exports.
Statistics compiled by the Industry & Technology Intelligence Service (ITIS), a Taiwanese government-funded market intelligence institute, show that the industry's output value and exports in 2014 stood at NT$36.12 billion (US$1.12 billion) and NT$28.94 billion (US$904.37 million), respectively, with imports of NT$14.92 billion (US$466.25 million). With export volume continuously expanding, the average export price reached NT$435 (US$12.59) per kilogram in the year, compared to less than NT$260 (US$8.12) a decade ago, indicative of the industry's movement to the mid-to-high segments of the global market.
In an exclusive interview with CENS, chairman Wu of PAT shared insights into the development of the industry, as well as the association's achievements that further boost the industry's image and capabilities amid tougher global competition.
Industrial Clustering
Wu pointed out that Taiwan's waterware industry originated in Dingfanpo, a district in Lukang Town in Changhua, with, after over 50 years of development, more than 800 manufacturers and related subcontractors, such as surface treatment companies, material suppliers, processing firms, and specialized machinery makers, together forming an efficiently integrated supply chain that helps sustain the local economy.
Among the industry's distinctive advantages, Wu said, is that no other country in the world has a higher density of waterware makers within such a limited area than Taiwan. The chairman indicated that most of the companies in the supply chain there can reach each other within 30 minutes, thanks to the proximity and high density. So the suppliers are capable of turning out any product and service in demand that are outside their expertise, which satisfies foreign buyers with unparalleled production flexibility and efficiency.
In addition to a well-integrated supply chain, time-tested manufacturing capability, and finely-honed craftsmanship are also among the industry's competitive advantages, said Wu, who added that the current success of the industry is the result of manufacturers' decades-long devotion to their core businesses and common goal to build the industry's global status.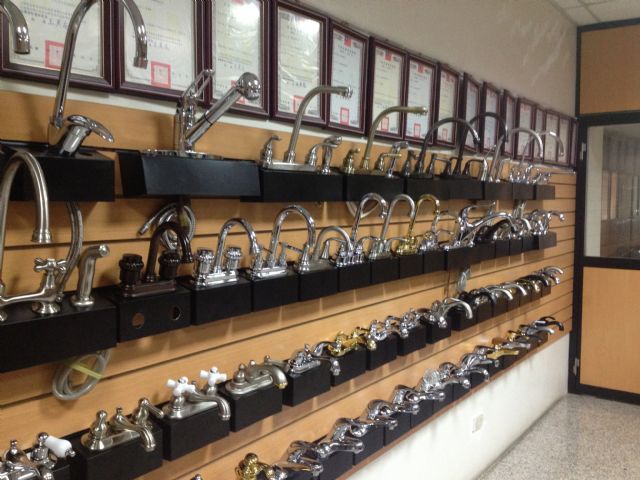 Faucets make up the majority of Taiwanese waterware industry's output, mostly destined for North America.
Challenges 
Despite the industry's solid competitiveness, market structure has shifted to pose more challenges to impede Taiwanese suppliers' growth in the global competition. For instance, Wu said, most of local operators face growing rivalry from Chinese competitors, who have been gradually encroaching with lower-priced products on Taiwanese suppliers' share in the U.S. market over the past decade. The comment is confirmed by ITIS's statistics released early-2015 to show that Chinese suppliers' market share in the U.S. has grown to over 27% in recent years from sub-20% before 2006, versus Taiwanese suppliers' share there having gradually declined to sub-5% compared to over 6% during 2004-2008.
Additionally, Wu pointed to various trade tariff and non-tariff barriers, such advanced standards as ASEM A112.18.1, AB1953 and ASSE 1016 ASSE 1070 established by the U.S., the BSEN817/1287, REACH (Registration, Evaluation, Authorisation and Restriction of Chemicals) on and 4MS (four Member States) by EU, JIS B2061 by Japan, AS-2345 by Australia, and many others that demand Taiwanese suppliers to invest in improved, costlier production technologies to tap such overseas markets.
The chairman added that the wave of regional economic integration also poses formidable threat to Taiwanese exporters, simply because the problem remains intractable until Taiwan is integrated into global major regional free-trade blocs, which seems improbable as Taiwan continues to be marginalized in regional economic integration due to political reasons.
Also, Wu added, the industry is also under stress due to other negative market factors, including the slowing economy in China and other emerging countries; increasingly uncertain U.S. economy as reflected by its abruptly declining new-house sales in recent months and suddenly slowing IPI (Industrial Production Index) growth in August; persistently weak international crude oil prices; rising geopolitical instability in the wake of Russia's annexation of Crimea and the rise of ISIS-related unrest; and lingering worry about still unsolved Greek debt after the prime minister Alexis Tsipras regained power with a victory in the country's second general election in September.
Perhaps as the result of a combination of the abovementioned factors, Wu confirmed that the industry's export orders significantly shrank during the first two months of the second half of 2015 after several months of robust growth, and are likely to keep dropping for the rest of the year. "The industry's ups and downs are especially sensitive to the changes of the North American market, given that over 40% of its exports go there yearly," said Wu.
Despite the market challenges mentioned above, the chairman, however, is not pessimistic about sustained growth of the industry in the years ahead, primarily because of what PAT under his leadership has done over the past few years to boost the industry's overall competitiveness and image.
Unify Standards
Among the plans already put into action, Wu stressed, PAT has proposed to the Ministry of Economic Affairs (MOEA) an association-led certification initiative designed to unify qualitative standards and regulations between Taiwan and world's industrially advanced nations for waterware products. Given Taiwan's current status in the global economic integration, the chairman noted that the establishment of a brand new quality certification system led by PAT is a feasible, practical way for industry insiders to shrewdly fend off non-tariff barriers to better develop overseas markets, mainly because PAT has all necessary resources and know-how required for regulatory and standards unification.
Over the past years, Wu said that PAT has actively participated in the amendment of CNS8088 standards established by the Bureau of Standards, Metrology & Inspection under MOEA, and sought support from the Metal Industries Research & Development Centre (MIRDC), a government-funded R&D body mainly engaged in base metal and metal product industries, to integrate existing certification systems regarding waterware products in Taiwan and come up with a new certification process to be recognized by foreign countries.
"Through setting up a trustworthy certification process that is unified with those in developed nations, the PAT aims to achieve mutual certification, to help Taiwanese suppliers open wider the window to new markets. This is absolutely helpful for the industry to further boost its competitiveness," said Wu.
On another front and believing that the smartest way for the industry to ensure sustainable development is to breed talent and grow the labor pool, Wu has been encouraging the children of company founders to become involved in the industry. To that end, the association has offered many education and training programs to help second-generation managers learn how the industry works and immerse themselves in practical training offered by experienced workers and experts.
Given the difficulty this traditional industry faces in attracting young, high-quality workers, Wu thinks that the children of company founders, most of whom are highly educated, constitute the surest source of talent for the industry. However, many of them are reluctant to take over parents' companies partly because of lack of knowledge and experience in the industry, and partly due to parental pressure. The most effective way for these young guys to cultivate interest in the industry and develop needed abilities is education and training without intervention from parents. That is why PAT offers the training programs, said Wu.
Wu noted that these training programs systematically educate second-generation owners in industrial knowledge and technology, and give them know-how in practical operations through training by experienced workers and university experts. Without parental pressure, they can express their opinions and exchange views with peers freely and openly. The program also gives these future company owners a chance to build contacts to increase the possibility that they will build partnerships in the future and further strengthen the industry's overall competitiveness.
Boutique Waterware Base
However, the establishment of a large waterware hub in Lukang is perhaps the most significant project Wu has completed during his tenure, one that will definitely pump considerable growth momentum into the industry's sustained growth in the long run.
Under construction for over a year, the hub is spread over some 33,000 square meters and scheduled to start up sometime during the first half of 2016, said Wu, who added that the base will serve as Taiwan's only boutique waterware museum to not just showcase a full spectrum of bathroom, plumbing fittings and related products, but provide visitors closeup picture of the traditional manufacturing industry through various documents on display. "By locating the museum in Lukang also turns the hub into a key tourist attraction in the town to bring a constant influx of visitors and contribute to local economic growth," said Wu.
More notable is that unlike Taiwan's existing industrial museums, which serve single purpose without generating readily-available benefits to industry insiders, the base is designed to double as a product innovation and talent incubation center, in which PAT will spend considerable resources to install advanced equipment and employ R&D engineers to assist industry insiders to upgrade their production technology and go upmarket.
For instance, Wu confirmed that the center will offer various tech supports, from reverse engineering, CAE (computer aided engineering) to 3D printing and automation technology, to industry insiders in need of sharpening their molding, tooling and prototyping capabilities, as well as testing and inspection service in compliance with international standards to enable makers to shorten commercialization process for new products.
Summing up the hub's functionality, Wu said that this multifunctional museum features value-added functions: innovation & design; rapid prototyping; testing & inspection; startup incubator; exhibition; training & education; value chain promotion; and facilities service. The chairman is actually writing a new chapter with the hub for the industry's history without neglecting his duty to improve the industry's image and capabilities.
Cooperation with TPL
As the primary part of his plan to push forward mutual certification between Taiwan and world's major developed nations for waterware products, Wu reported that PAT has already signed a cooperation agreement with the Taiwan Plumbing Research & Testing Laboratory (TPL).
Wu (first from right) attends the opening ceremony last October for TPL. (photo courtesy of MIRDC)
TPL is established by MIRDC in the Taichung Industrial Park, with the aim to aid Taiwanese suppliers striving to continuously improve products to measure up to stricter quality requirements established in the U.S. and Europe regarding toxicity prevention, functional safety and noise reduction that ensure comfort and safety in people's lives.
The lab is already accredited by related agencies at home and overseas and has built considerable capacity to handle material safety testing complying with NSF (National Science Foundation) standards, as well as testing of noise emission in accordance with ISO 3822. Plus, the lab also obtained NSF 61 certification from International Association of Plumbing and Mechanical Officials Research and Testing (IAPMO) last June, setting a milestone for Taiwan's plumbing fitting and product sector.
Thanks to TPL, Wu said that the U.S. and Canada already accept test results of plumbing product using MIRDC's technologies, so operators can take advantage of such convenience to directly apply to IAPMO for permission to sell certified products in North America, which greatly shortens lead time and enhances profitability.
Synergies
Over the past three years in office, Wu has also actively encouraged cross-industry cooperation as a savvy strategy to leverage technological resources from Taiwan's electronic and IT industries to add value to the industry's products.
Wu said that his company, Long Tai Copper Corp., a veteran manufacturer of bathroom faucets, showerheads, and valves, has tapped synergy with a local LED maker to work out an LED-integrated long spout kitchen faucet able to easily identify water temperature through flashing LEDs, as well as with an air purifier supplier to develop an ozonizer-incorporated kitchen faucet for added-value.
Citing his company's products as proof, Wu said that to add value to products has been a priority for Taiwanese traditional manufacturers to survive the increasingly challenging market, with tapping synergies with local, competent partners in the waterware industry being the best way to that end. "Long Tai's new products hopefully set examples for Taiwanese waterware makers to follow," said Wu.
Still as optimistic and unfazed as he was when interviewed by CENS three years ago, Wu reiterated that the industry's future is always promising given that faucets and plumbing fittings remain undiminished globally even in modern times. Backed by time-tested manufacturing capability and steady investment in honing competitive edge, the chairman emphasized, Taiwanese manufacturers will be able to keep growing sustainably in the future, regardless intensifying global competition.
Long Tai has worked out a series of kitchen faucets featuring value-added elements via cooperation with partners from other industries.
Output by Taiwan's Waterware Industry by Year
Year

2004

2009

2010

2011

2012

2013

2014

Output

NT$24.76 Bn.

NT$23.95 Bn.

NT$31.11 Bn.

NT$336.1 Bn.

NT$35.19 Bn.

NT$35.38 Bn.

NT$36.12 Bn.

Imports

NT$10.78 Bn.

NT$8.98 Bn.

NT$12.49 Bn.

NT$14.64 Bn.

NT$12.05 Bn.

NT$13.75 Bn.

NT$14.92 Bn.

Exports

NT$20.55 Bn.

NT$19.29 Bn.

NT$23.96 Bn.

NT$25.10 Bn.

NT$26.12 Bn.

NT$26.70 Bn.

NT$28.94 Bn.

Average Export Price
(per KG)

NT$246.8

NT$349.4

NT$375.0

NT$395.2

NT$410.6

NT$417.3

NT$435.0

Source: Industry & Technology Intelligence Service