Heart rate chest belt, cyclocomputer, heart rate monitor, bicycle accessories, GPS sport meter, etc.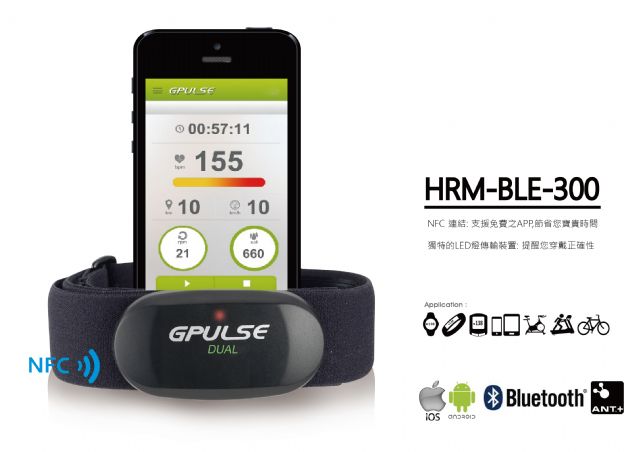 G.PULSE Bluetooth Smart & Ant+ dual heart-rate chest belt
Founded in 1993, G.PULSE International Co., Ltd. has been dedicated to the manufacture of innovative ECG heart-rate monitors and cyclocomputers. The company is committed to, besides helping distributors of health/fitness monitors build business, developing products to help people who tend to work out at home and individually to achieve fitness more efficiently and safely.
G.PULSE has launched its BLE smart heart-rate chest strap, which can directly connect to a smartphone to display a user's heart rate through the Bluetooth function. One of the company's latest models in the series is the G.PULSE Bluetooth Smart & Ant+ dual heart-rate chest belt (LED/ NFC), or HRM-BLE-300. The chest belt shares apps to make a smartphone an all-in-one training device, without having to resort to another monitor. The innovative monitor is ideal for runners, cyclists, and other fitness-conscious consumers.
Some features of the new and innovative HRM-BLE-300: 1. NFC link function (directly connects to favorite apps or websites by touching smartphone & transmitter); 2. LED transmission data; 3. data transmission to two devices at the same time; 4. low power consumption; and 5. compatibility with iOS, Android, Bluetooth smart, and ANT+. 
Being confident of the growing global trend towards improving personal fitness and its vast business potential, G.PULSE continues to focus on development of innovative products for clients and to help end-users train more efficiently and safely. Combined with its self-developed chest strap products, G.PULSE has also been working on a brand-new, cloud-based, convenient interface and system for PC monitoring.
G.PULSE looks forward to seeing visitors and buyers who are interested in functional and innovative products for personal fitness training at the 2016 TaiSPO (Taipei Int'l Sporting Goods Show): Booth No.: G0341
G.PULSE International Co., Ltd.
No. 16-3, Lane 852, Tucheng Road, Tali Dist, Taichung City, Taiwan
Tel: +886-4-24929406
Fax: +886-4-24920608
Website: www.gulse.com
E-mail: gpulse@ms18.hinet.net