Bicycle handlebars, stems, seat posts, front forks, bar ends & grips, etc.
Hsin Lung Accessories Co., Ltd. (SATORI) has been a widely recognized leader in supplying the bicycle industry for almost 40 years, with a focus on providing innovative handlebars, stems and seat posts to bicycle makers and cyclists globally.

The firm proudly stands behind its well-rounded facilities including world-class research, design and production facilities, as well as the experience to fully tap its potential. Above all, however, the passion for cycling is the driving force behind its growth and the deeply rooted belief that cycling is a way of life that is eco-friendly, benefits personal wellbeing to also reduce urban gridlock, which continues to inspire the development of exciting new ideas at SATORI.

The bicycle-parts maker takes pride in designing components to make cycling more fun, comfortable, more efficient and faster for a wide-range of riders—from city commuters to cross-country enthusiasts to serious racers. One of the latest examples is SATORI's winning item at the 2016 TAIPEI CYCLE d&i Awards, one of the world's most coveted bicycle-design competitions organized by iF International Forum Design, the Glider shock-absorbing stem, which offers a smoother ride without the extra cost and weight of a typical fork with integrated shock absorbers.

Glider is a stem able to absorb impact and shock due to its combination of sophisticated and precise CNC machining, low friction bearing and high density elastomer. It smoothes and reduces the up-and-down movement of the front end of a bike when hitting uneven surfaces, making a ride more comfortable and fun. The maker offers a variety of elastomers with different degrees of density or stiffness to serve the needs of cyclists across various terrains.

SATORI also says that it has succeeded in harnessing key technologies, such as its unique butted handlebar forming technique, to provide designs that are among the strongest, lightest and most stylish on the market. As a pioneer in the Taiwanese bicycle components industry, the firm is backed by ISO-certified facilities to continue producing award-winning, patented designs based on breakthrough technologies.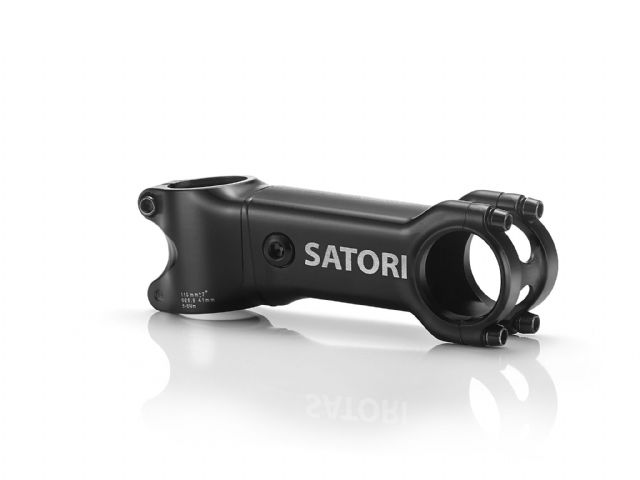 Hsin Lung Accessories Co., Ltd. (SATORI)
Tel: +886-3-598-3721 ext. 230
Fax: +886-3-598-1861
Website: www.satoribike.com
E-mail: sunny@hlcorp.com.tw
>