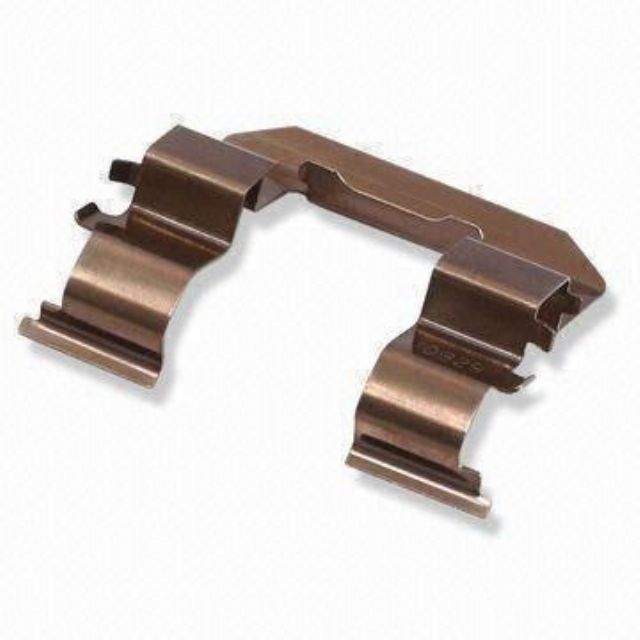 Sample of Mao Chuan's stamped parts.
Mao Chuan Industrial Co., Ltd., founded in 1970 in Changhua County, central Taiwan, started up as a small OEM of clothing parts and related accessories and then, after gaining years of experience in punching, diversified into manufacturing leather accessories and footwear parts mainly for Nike and Reebok, hence significantly widening its product range. In recent years and having built considerable reputation as an OEM with seasoned production skills, the company has ventured into auto parts and electronics components.
Showing its dedication to becoming a conscientious OEM in Taiwan, Mao Chuan has attained ISO/TS16949 certification, the ISO9000-based quality management system for continual improvement, defect prevention and reduction of variation and waste that is applied in automotive product manufacturing.
Mao Chuan employs 50-plus workers in two factories spread over 99,000 square meters in Taiwan that turn out a huge line of products, including buttons, buckles, footwear parts, leather accessories, radiator fins, electronics parts, hardware for automotive and electrical applications, hand tools and construction items. Its monthly capacity totals some 30 million pieces, over-70% of which are exported mainly to Europe and North America. 
To make sure custom orders meet specifications of function and quality, Mao Chuan painstakingly conducts production feasibility study and risk assessment in the early stages of R&D; while steady communication with buyers and adherence to ISO/TS16949 procedures help to deliver fully-satisfactory products, all of which contribute to building respect among its customer base. 
Properly Focused
Knowing that sharpened production skills are vital for an OEM's sustained competitiveness, Frank Lai, Mao Chuan's youthful CEO, who has been with the firm  over a decade, and his team pay close attention to improving production caliber.
Mao Chuan, aiming to achieve the highest production precision and efficiency, installed 20 sets of advanced NC (numerically controlled) machinery when it began manufacturing shoes and leather accessories in 1980. Despite the move being costly and risky as the firm was still relatively small, Mao Chuan eventually proved the investment shrewd and forward-looking. 
Backed by 10 NC punching machines of 45-metric-ton capacity, 4 of 60-metric-ton capacity, one each of 110-metric-ton and 220-metric-ton capacity, 3 CNC (computer numerically controlled) wire-cutting machines, and several sets of multi-axis processing machines, Lai takes pride in offering fully integrated, in-house production that can effectively mold, manufacture and package.
Having pioneering spirit has also helped Mao Chuan to become a globalized operator: Once an American casino placed sizable orders for machines to print lottery tickets, a product totally foreign to the company.
Embracing the can-do attitude, Mao Chuan spent over six months working with the  American engineers from the casino. The collaboration effectively taught Mao Chuan the know-how to fabricate such sophisticated printer and related calibrating standards widely adopted in the U.S. Besides having earned recognition from its North American client, Mao Chuan also gained a bonus: becoming fully familiar with American calibration standards recently helped the firm to outbid rivals for orders from Black & Decker, the largest power tool brand stateside. 
By-the-Book QC
Earnestly adhering to international QC procedures and ISO/TS16949 helps Mao Chuan to achieve world-caliber production. The firm keeps a sharp eye on every stage of stock inventory through pre-delivery inspection. 
The company adopts practical controls, such as SPC (Statistic Process Control), to  examine semi-finished product quality, and assigns QC engineers to engage in hourly spot-checks. Above all, QC staffers are required to stringently follow ISO/TS16949 procedures: file all test records, which is critical and allows back-tracking defects through the whole production process to effectively improve quality, Lai said.
Lai religiously believes in the ISO system, insisting that adhering to such standards is key to sustainable corporate development. Driven by Lai's dedication, Mao Chuan has consistently maintained management to international standards since the 1990s. However adopting the ISO system has been a tough journey, as old habits are hard to break: the company had to convince senior workers to make big changes, Lai mentioned.
Determined to turn Mao Chuan into a globally-competitive OEM that measures up to ISO 9001 and ISO/TS 16949 standards, Lai, after extensive discussions with staffers, shut down production lines for one month—rearranging machinery layout and introducing appropriate SOPs and production regulations. Lai also made sure staffers participated in the reorganization, believing that teamwork would help build keener obligation towards delivering better quality and services.
Green Certified
Fully aware of growing eco-concerns worldwide amid global warming and skyrocketing fuel prices, Mao Chuan has been ISO14000 certified, hence assuring of its RoHS (Restriction of Hazardous Substances) compliance. Such green approval is important to facilitate business expansions into Europe, especially considering that  Germany and Scandinavia are at the forefront of eco-sensitivity, and, above all, attests to the company's devotion to environmental protection.
"Though many see ISO certifications as mere pieces of paper, but they could be useful confidence boosters for a company in fiercely competitive markets," Lai says. "The effectiveness, benefits of ISO hinges on managerial attitudes toward such  standards."
Young and Valuable
Mao Chuan has a team of mostly young workers, regarded as the most valuable corporate assets, who work to achieve maximum efficiency and innovation. "Young and more open-minded, our staffers are ready to accept new concepts and communicate with managers," Lai pointed out. "Also, the management is willing to listen to their ideas and seize any opportunity to exchange views. In many cases, their opinions are quite useful and innovative."
Mao Chuan also values on-the-job training. According to Lai, the company  periodically sends workers for safety and competency training offered by specialized  institutes, such as the Central Training Center under the cabinet-level Bureau of Employment and Vocational Training under the Cabinet-level Council of Labor Affairs and the SGS Group. Plus, they are encouraged to be tested for national vocational certificates.
Implementing employee-friendly and reasonable labor-and-management policies, Mao Chuan successfully boasts very low staff turnovers. Moreover, effectively breeding staff loyalty enables the firm to keep quality manpower that can secure stable product quality, on-time delivery, and prompt service, all which have played a role to keep the company in operation for nearly four decades.