Numerous trendsetting LED lighting solutions and innovative lighting fixtures on display will inspire visitors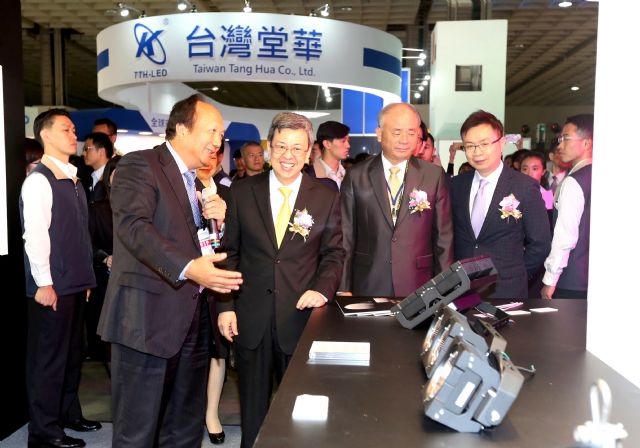 Taiwan Vice President Chen Chien-jen (second from left) visited TILS and LED Taiwan 2017 (photo courtesy of TAITRA).
With LED lighting popularity rapidly climbing worldwide, the Taiwan International Lighting Show (TILS) continues to be held in conjunction with LED Taiwan at the same venue this year, serving as a one-stop sourcing platform for buyers looking for new opportunities.
LEDinside, a Taiwan-based market research institute, indicates that global market demand for LED lighting was estimated at US$30.5 billion in 2016, compared to US$25.7 billion in 2015, with the penetration rate of such products rising to 36 percent. 
Given that ever more global LED lighting suppliers in the wake of continuous price drops of LED bulbs and lamps for household use have shifted focus to specialized applications, such as industrial lighting, commercial lighting and landscape lighting, some of global market researchers opine that global sales of LED lighting will show a CAGR of nearly 17 percent during 2016-2020. 
In the scenario, the 2-in-1 exhibition hosts a total of 238 exhibitors manning 738 booths in Taipei Nangang Exhibition Center, Hall 1, representing a thorough supply chain of lighting products covering lighting fixtures, LEDs and LED lighting, manufacturing equipment and materials.
Focusing on lighting applications, TILS 2017 is organized by Bureau of Foreign Trade under Ministry of Economic Affairs, and co-administrated by the semi-official export promoter Taiwan External Trade Development Council (TAITRA) along with Taiwan Lighting Fixture Export Association (TLFEA), with support from China Economic News Service, a local export media agency.
An extensive product lineup in fine organization has been among features of the trade fair. At this year's edition, exhibits are categorized into Home/Residential Lighting; Commercial Lighting; Intelligent Lighting; Outdoor Lighting; Lighting for Kitchen & Furniture; Plant Factory & Lighting; Automotive Lighting; Special Lighting; Health Care and Institutional Lighting, Medical, Cosmetic and Beauty Lighting, Building Material & Lighting Applications; Lighting Accessory; Lighting Production Equipment; Test & Inspection Equipment.
Some big-name enterprises in the line are present at the venue for the moment, including China Electric MFG. Corp. (CE), Delta Electronics Inc., Epistar Corporation, Golden Way Electronics Corp., Mean Well Enterprises, MLS Taiwan, Nan Ya Photonics Inc., Panasonic Eco Solutions, Taiwan Super Trend Lighting, Taiwan Tang Hua and Unity Opto Technology, to name a few.
Underlining Taiwan's high manufacturing reputation in LEDs, LED Taiwan 2017, co-organized by SEMI Taiwan, TAITRA, TLFEA and Taiwan Optoelectronic Semiconductor Industry Association, is highlighted with a full spectrum of exhibits, encompassing LED manufacturing equipment and materials, epitaxial wafers, crystals, packaging technologies and services, LED modules.
In addition to products, technology innovations and solutions brought by exhibitors, TILS 2017 is noted for a slate of concurrent events and forums organized, including one-on-one procurement meetings, Lighting Design Conference, New Products Launch, Innovative Product Awards and so forth, which are designed to not just help participants keep themselves updated with the latest market trends and technological advances, but generate more mutual benefits between exhibitors and visitors.
To buyers often craving for something new as a means to shore up their businesses, there are some events that they should not miss out on during the exhibition. For example, "Innovative Product Awards" highlights eight finalists with their unique, trendy products in three categories: Parts and Components, Outdoor Lighting and Indoor Decorative Lighting. Plus, "New Products Launch," scheduled 13:30-15:50 today and Friday, will see several presentations given by invited companies for their innovative products and creative ideas.