High-profile R&D institute debuts flexible OLED lighting panels at this year's TILS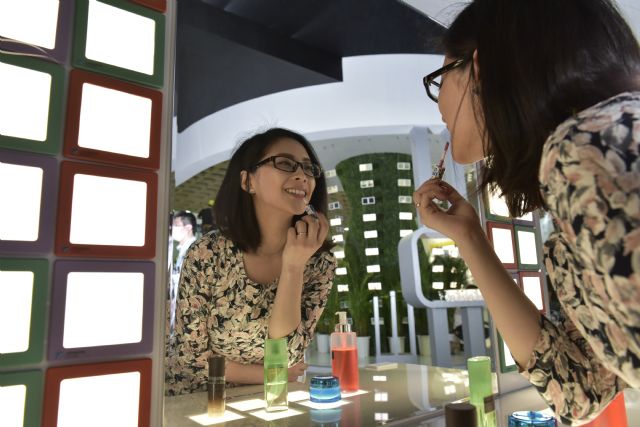 ITRI has worked out high-quality OLED lighting panels that are suitable for makeup and other commercial applications (photo courtesy of ITRI).
In light of OLED (organic light-emitting diode) increasingly applied in lighting in modern times, Industrial Technology Research Institute (ITRI), a Taiwanese government-funded, pioneer R&D institute on advanced technology, has actively engaged in researching and developing related applied technologies over the past years, to lay a solid foundation for the development of OLED lighting in Taiwan.
ITRI's efforts on OLED lighting have paid off very well so far. The institute continuously released new applied technologies and products in its "OLED Lighting Pavilion" set up at each edition of Taiwan International Lighting Show (TILS) and LED Taiwan, an annual trade fair that covers all lighting-related sectors, including solid-state lighting devices, between 2015 and 2017, most of which effectively created a buzz among visitors and buyers.
Just a few days before TILS and LED Taiwan 2017 took place in mid-April, Jupiter Hu, Ph.D. and deputy general director of Electronic and Optoelectronic System Research Laboratories, accepted an exclusive interview from CENS and shared his views on the current development of OLED lighting.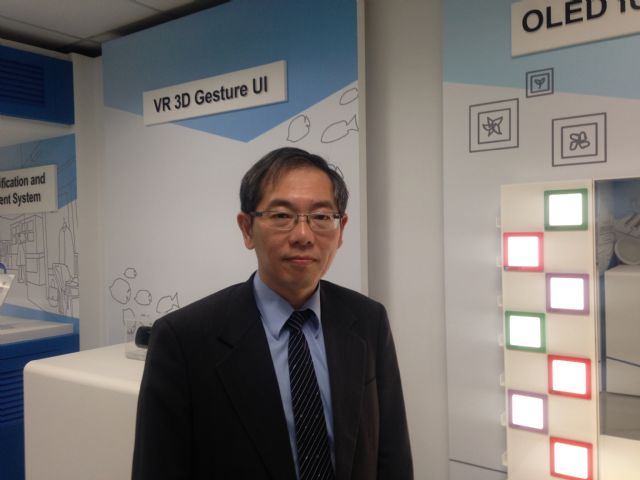 Jupiter Hu, Ph.D. and deputy general director of Electronic and Optoelectronic System Research Laboratories.
Third-generation Light Source
Hu stated that with the advent of OLED, the global lighting industry has further moved forward with third-generation light sources, following tungsten filaments and LEDs, which are generally described as the first- and second-generation, respectively.
Hu said, "To luminaire makers, OLED makes for a healthy light source and brings new possibilities to solid-state light applications," primarily because such device has distinctive advantages over LED, which include the offering of light that is the most similar with natural light but doesn't dazzle the eyes, and a relatively broad spectrum.
Additionally, the expert continued, OLED is a surface light source that generates little heat and emits over the surface so obviating the need for secondary optic components, such as reflectors, compared to LED, a point light source that calls for lenses and other aids when used in lighting. "Basically, OLED is not just a light source, but also a luminaire," he said.
With ever more enterprises and countries having poured considerable resources into the development of related applications, OLED has made a market with tremendous potential, though it will take time. Citing UBI Research's data, Hu opines that the global market for OLED lighting products will explosively expand to US$1.6 billion by 2020 from only US$140 million projected for 2017.
Hu pointed out that major factors behind the predicted whopping growth include the advancement of related applied technologies, steadily climbing popularity among consumers and the gradual development of a thorough supply chain.
Among segments of the global OLED lighting market, Hu feels that commercial lighting and automotive lighting will serve as growth locomotives. For reasons, he indicated that OLED features a broad emission spectrum, even light distribution without dazzling, hence ideal for makeup, displaying and other commercial applications.
In automotive application, Hu continued that OLED perfectly fits auto lamp designers' requirements for new, unique and personalized design options, such as flexibility and curved lighting surfaces, while making for enhancing driving safety thanks to non-dazzling light it provides.
OLED Lighting Pavilion
 In view of OLED increasingly applied in lighting, ITRI has set up its "OLED Lighting Pavilion" at TILS for three consecutive years since 2015, to not just show off its R&D achievements, but inspire more Taiwanese luminaire makers to work on such products.
Hu introduced that ITRI inaugurated the pavilion program in cooperation with Taiwan Lighting Fixture Export Association and six local companies three years ago, and collectively demonstrated an OLED mass manufacturing technology at TILS 2015 to mark the beginning of Taiwan's entry into a new era of solid-state lighting.
At TILS 2016, the pavilion showcased a variety of OLED applications, including household lights, makeup lights, automotive lights and decorative lights, jointly developed by ITRI and 11 Taiwanese companies. Among the biggest hit with visitors then was the so-called "Green Lighting Curtain," a large-sized luminous panel designed by ITRI and Chung Yuan Christian University with 150 OLED lighting panels with color temperature of 4,000K each but without color aberration, noted Hu.
During this year's TILS, ITRI continued setting up the pavilion as presentation stage for its flexible OLED engine, which measures 5cm wide by 20cm long with thickness and weight of only 0.6mm and 8 grams, respectively.
In order to meet real-world demands in lighting design, Hu said that ITRI worked out the light engine, along with a series of drivers, power supply modules and controllers that can fit OLED light engines with various sizes, following two years of intense discussion with a number of lighting designers. Those achievements, he stressed, are expected to help shorten time-to-market and boost popularity of OLED in the domestic lighting industry.
Summing up his views on the rise of OLED in the solid-state lighting sector, Hu said, "OLED and LED have different advantages, so they can complement each other rather than replacing. With OLED inspiring new concepts in lighting design, all newer lighting technologies are simply applied in bettering the quality of people's lives after all."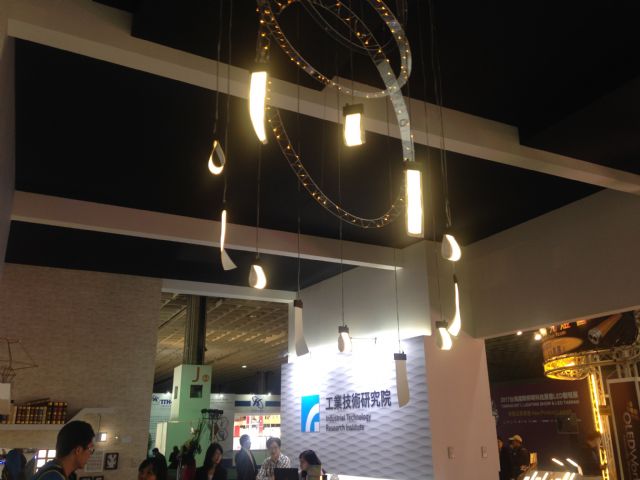 At this year's TILS, ITRI demonstrated flexible OLED light engines, to further promotion of OLED lighting.
At this year's TILS, ITRI demonstrated flexible OLED light engines, to further promotion of OLED lighting.