Four-day trade fairs feature wide-ranging exhibits and highlighted zones along with concurrent events, to underscore ongoing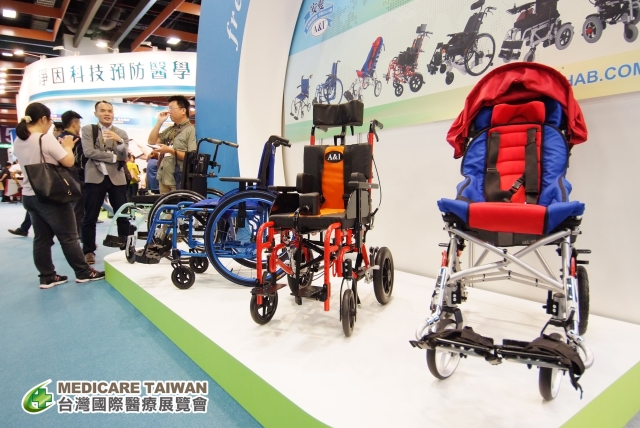 MEDICARE TAIWAN and SenCARE is Taiwan`s largest procurement platform for the healthcare industry (photo courtesy of TAITRA).
Sponsored by the Bureau of Foreign Trade, Ministry of Economic Affairs and organized by TAITRA, this year's MEDICAL TAIWAN continues taking place in tandem with SenCARE from June 21 through 24 at Taipei World Trade Center Exhibition Hall 1 as the largest business exchange platform for the health care industry on the island
With hundreds of industry insiders from across the globe to be present on the showground, the two trade fairs aim to generate compelling visitor experiences and a positive buying atmosphere with a wide spectrum of exhibits, highlighted exhibition areas and concurrent events, all of which are designed in tune with the ongoing trends in the global market.
According to Deloitte, a management consulting service provider of the U.S., global healthcare spending is estimated to reach US$8.7 trillion between 2017 and 2021 for a stronger CAGR of 4.1% than that during 2012-2016. The anticipated growth will be led by a couple of factors, such as aging and increasing populations, emerging market expansion, steadily increasing number of diabetes sufferers worldwide.
Another decisive growth driver, Deloitte indicates, is the advancement of the so-called exponential technologies, which include robots, AI, data and analytics, synthetic biology, 3D printing, companion diagnostics, biosensors and trackers, and are believed to give a makeover through the integration with the Internet of Things to existing care delivery systems. On grounds of the abovementioned reasons, it is safe to say the global healthcare industry will continue to see rosy prospects in the years ahead.
In this scenario, MEDICARE TAIWAN 2018 and SenCARE 2018 jointly host 408 exhibitors using 868 booths, with exhibitor profiles covering manufacturers and branded vendors of medical equipment, medical robots, electromedical equipment, biotech pharmaceuticals and diagnostic equipment, as well as medical technology developers, IoT-enabled solutions providers, hospitals, clinics and academic institutions. The high diversity results in an extensive range of exhibits that revolve around such key issues as medical equipment, innovative smart healthcare systems and medical services.
In the meantime, several highlighted exhibition areas are organized on the showground to help visitors gain a deeper understanding of Taiwan's well-developed healthcare ecosystem. Among those, "Startup Park" is filled by a couple of startups who have come up with innovative applications of AI in medical and healthcare services; and "Taiwan Medical Specialty Alliance" accommodates a total of 32 hospitals and clinics from two different medical alliances but with a shared goal of promoting Taiwan's quality services and first-class healthcare facilities to global medical tourists.
A host of seminars and concomitant events will also be held during the four-day span of the trade fairs, which include "AI Medical Treatment and Elder Care Development Trend Seminar" and "AI Medical Treatment and Elder Care Development Trend Seminar." To visitors looking to stay updated with the latest trends and buzzwords, these informational, enlightening events are worth attending.