New system platforms for IoMT were unveiled there.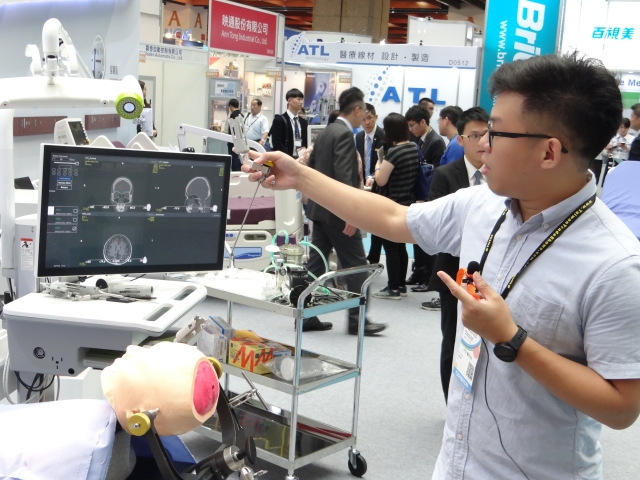 IoMT was one of the buzzwords repeatedly seen and heard at this year`s MEDICARE TAIWAN.
The rise of IoT has laid the foundation for the development of the Internet of Medical Things (IoMT), which, in turn, has given a boost to the global healthcare industry in a constant pursuit of smart healthcare.
Suggesting the ongoing trend, the "Medical Technology and IoT Application" exhibition area that gathered solution providers of the said emerging applications at this year's MEDICARE TAIWAN, held June 21-24, had seen a constant influx of interested buyers since the trade fair kicked off.
To industry insiders, the application of IoT in medical and healthcare services can result in considerable benefits, including the faster communication and easier access to all the necessary information on patient treatment, improvement of treatment effectiveness and medication accuracy, and enhancement of operating efficiency. Furthermore, it has been changing the way healthcare is delivered to go from pull to push, and bringing smart hospitals, telemedicine and smart care to the reality.
According to a research report by Frost & Sullivan of the U.S., IoMT has become the second-largest application for IoT, only next to Industrial IoT, given that IoMT devices have accounted for an estimated 30.3 percent of all the IoT devices on market.
In an anticipation that around 87 percent of hospitals and institutions around the globe will be equipped with IoT-enabled systems in 2019, the market research firm projects the global market size of IoMT devices, mainly electronic medical equipment and wearables, to reach US$72 billion in 2021.
To explore the lucrative market segment, a couple of Taiwan's high-profile ICT firms chose MEDICARE TAIWAN as their springboards. The exhibitors with booths within the highlighted exhibitions area included Avalue Technology showcasing its smart ward and nursing systems; Mikotek promoting MIKO, a total solution for medical information integration, integrated communication and IoMT; Medicrowd Smarthealth launching an integrated platform for smart health management using big data analytics; and many others.