Joson-Care Enterprise Co., Ltd.'s manufacturing focus is divided into three parts, including hospital beds, home care beds and medical equipment. The monthly volume of hospital beds and home care beds produced by the firm falls between 500 and 1,000 units and are largely supplied towards markets such as Taiwan, Middle East and Southeast Asia and East Europe and South America.

Joson-Care is primarily featuring its hospital beds, including those geared for general wards and ICU wards, and on the other hand, beds for elderly care centers as well. These hospital beds include several types, ranging from the universal type that prioritizes patient comfort and easy usability and safety measures among the medical staff, and ICU hospital beds, which vary from electric weight scale ICU beds and general electric ICU beds. The weight scale ICU beds offer medical workers easy monitoring of taken liquids and excretory liquids. The measurements are critical for intensive care patients and by taking away the need to move the patients to take their weight is a boon for applying quality medical care.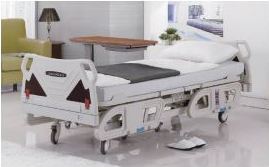 photo provided by Joson-Care Enterprise Co., Ltd.
Company representative Lee Cheng-yan says they hope to have great results at the show and increase their market exposure even more.