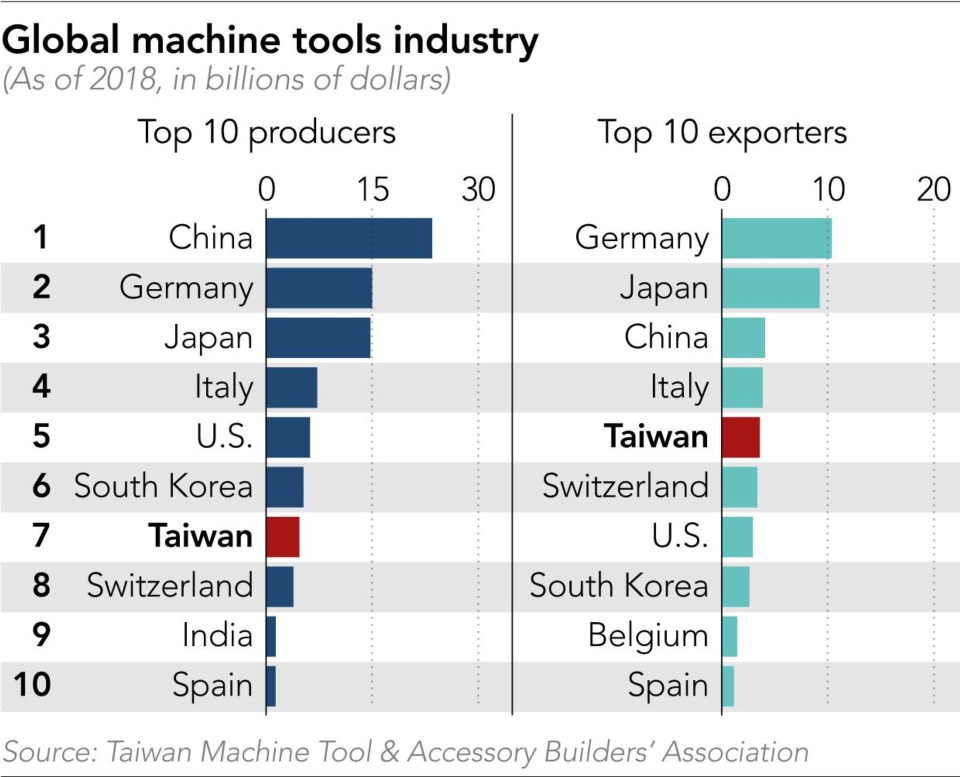 What the epidemic showed was the amazing flexibility of Taiwan's machine tool industry. Taiwan, which has allowed the semiconductor industry to specialize in the past, has finally realized that these machine tool industries with amazing strength are the "invisible champions" of Taiwan's economy.
In early February, three companies -- Habor Precision, Tongtai Machine & Tool and Taiwan Takisawa -- volunteered to assist, Taiwan had just two surgical mask-machine makers, usually capable of making just two machines per month. Currently, over 30 mask-making companies have received the 90 machines made by those two equipment makers with the help of the machine tools sector.
Established in 1945 with a cluster in central and southern Taiwan, some 2,000 companies making precision machinery and parts have supplied a range of industries that produce key components for military tanks, oil rigs, Airbus, Boeing jets, Tesla's Model 3 and Apple's iPhones. The combined annual revenue of Taiwanese machinery makers has reached 1 trillion New Taiwan dollars ($33.2 billion) a year, Economics Ministry data shows.
However, when the heroes of the national team of Taiwan's masks returned to the spotlights, the industry's export winter was ushered in alone. Taiwan's machine tool manufacturers face fierce low-price competition from China, and China surpassed Taiwan's exports in 2017.
As the epidemic hit the economies of various countries this year, businesses and factories have closed one after another. This has hit the export-dependent Taiwan machine tool industry the hardest. The poor environment, Japan's price cut competition, China's import substitution, and Taiwan's machine tool industry are facing a severe export winter.
Compared with the same period last year, Taiwan's machine tool exports fell by 25% in the first quarter of this year, and the recession is expected to continue into June. "We have no way to anticipate the industry's prospects this year," Tongtai Machine & Tool Co., pointed out. It looks like everything will be put on hold until the end of June.
And a small Taiwan still has such a strong manufacturing strength.
"Machinery is the mother of all industries, and machine tools are the foundation of machinery. It is a miracle that a small island like Taiwan still owns the capability."