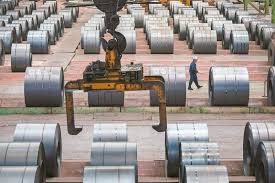 SINOSTEEL Corporation: Rising price in Steel(Photo courtesy of UDN)
Brazil's new crown pneumonia epidemic has rapidly increased. Brazil's Vale, the world's largest iron ore producer, is facing an out-of-control impact. The market is worried that iron ore production and sales will be affected. new highs. Experts from Sinosteel (2002) evaluated that steel prices will rise steadily under the effect of rising costs, with a promising outlook.
According to a legal person analysis, Central and South America has become the focus of the global new pneumonia epidemic, Brazil has become more serious, and Vale is the world's largest iron ore producing area with an annual output of 300 million metric tons of high-quality iron ore. Now it is affected by the spread of the epidemic, resulting in its future output Uncertainty has increased significantly.
Sinosteel experts said that iron ore is the most important raw material for iron and steel. International iron ore prices have been maintained between US$80 and US$90 per metric ton this year. Iron ore prices rose by 18% last week and exceeded US$100 per metric ton in one fell swoop. The mark is the 11-month high since August last year.