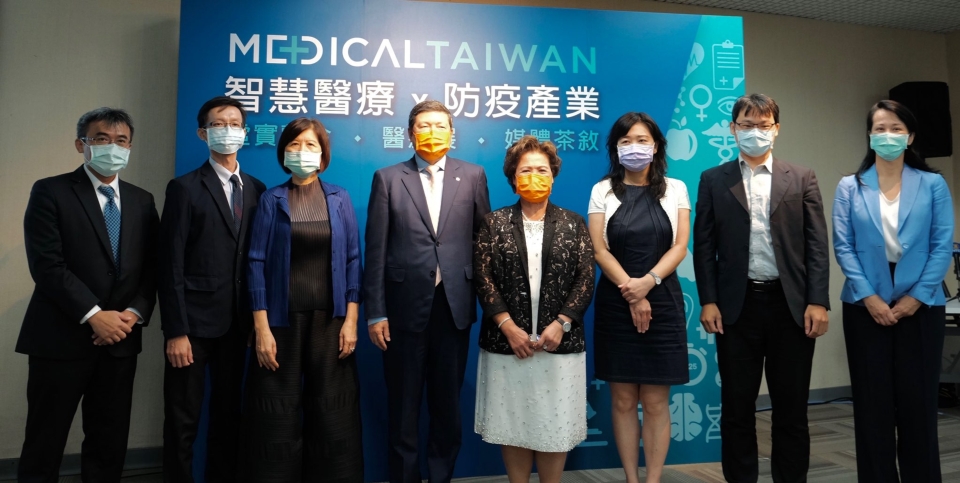 Medical Taiwan is slated to open on Oct. 15. (Photo courtesy of TAITRA)
2020 Medical Taiwan is slated to kick off on Oct. 15 to Oct 17 at Nangang Exhibition Hall 2. Aside from events at the show, show organizer Taiwan External Trade Development Council
(TAITRA) is also hosting the "Medical Taiwan Virtual" online edition at the same time due to travel restrictions impacted by the COVID-19 pandemic.
The virtual edition will present 200 exhibitors and over 700 medical industry products using 3D technology to showcase the exhibitor booths. Other events scheduled to see virtual versions are the procurement sessions, where Taiwanese firms will be meeting with foreign buyers over remote conference calls. There is also the "Buyer's Live Tours," in which foreign buyers can get the latest product information through interviews with exhibitors over the live stream in three areas: virus prevention, smart healthcare, and medical instruments and devices.
Due to Taiwan's notable pandemic efforts that have garnered international attention, Medical Taiwan will also be featuring exhibitors from the surgical mask-making supply chain, presenting firms like CSD, Modern Healthcare, Taiwan Comfort Champ, and Taiwan Stanch.
Many associations are exhibiting, such as the Taiwan Nonwoven Fabrics Industry Association, which has plans to present a "Surgical Mask Supply Chain Pavilion," as nonwoven fabrics is a vital material to produce reliable masks. Exhibitors, ranging from those making mask-making machinery, raw materials to the final products, aim to promote Taiwan's various mask products and a comprehensive supply chain solution to the world.
The Ministry of Economic Affairs Industrial Development Bureau's "Cross-Industry Smart Virus-Prevention Pavilion" aggregates over 30 firms' products and technologies. Results like showcasing cross-industry examples collaboration, smart virus-prevention, global assistance programs, and the current, highly-anticipated reagents and vaccine development, will be on the list. Notable firms under this category include Ad Immune, GeneReach Biotech, Panion & BF Biotech, Applied BioCode, and AsiaGen. To showcase Taiwan's medical industry's ability to collaborate with other industries, the bureau is also presenting the integration with biotech and technology-derived virus-prevention products.
In recent years, Taiwan's ICT industry has been making ground into the medical healthcare sectors. An example of this trend is shown in cooperation with hospitals, using big data, AI, and IoT technologies to usher the medical industry into a new, smart revolutionized Medical 4.0. Exhibitors under this framework include not only Taipei Medical University Hospital, Chang Gung Memorial Hospital, and Mackay Memorial Hospital, but also intelligent medical solution providers and startups.
"Necessity is the mother of invention," as they say. Coupled with the COVID-19 pandemic that swept across the world, upending societies and ushering the development of innovative products and services, having a finger on the latest and future trends is vital for firms' survival. Two rounds of the "Smart Medical International Trends Seminar" will discuss future medical industry trends. Notable speakers like the Digital Minister Audrey Tang, Former Vice President Chen Chien-jen, and Health Minister Chen Shih-chung will speak at the panel discussion.