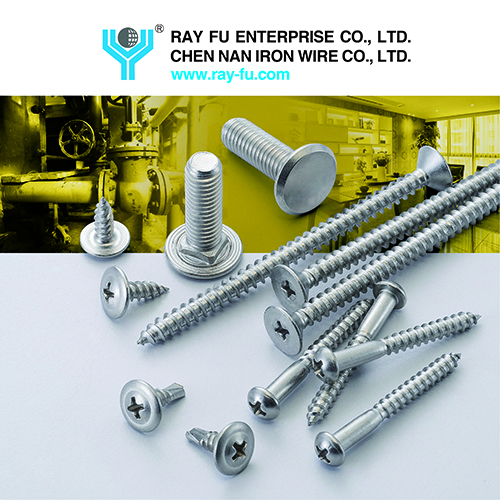 Stainless Steel Screws, provides by Ray Fu Enterprise Co., Ltd.
■ Huang Chih-ming
Ray Fu Enterprise Co., Ltd. is a Taiwanese professional exporter for various fasteners and steel wires. Along with its parent company Chen Nan Iron Wire, both firms are located in Kaohsiung City of southern Taiwan. Ray Fu manages a wire rod storage, spheroidizing annealing furnace, pickling surface equipment, wiring drawing machinery, and fastener forming machine. While the COVID-19 pandemic impacted the global market in 2020, the firm's sales began to see stabilization upon entering Q4.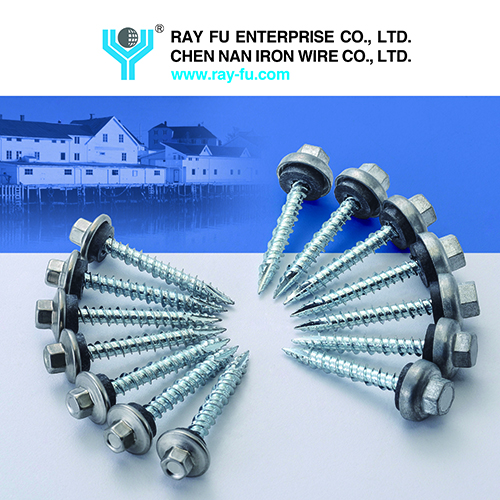 Roofing Screw (capped screws), provided by Ray Fu Enterprise Co., Ltd.
Ray Fu specializes in construction products, wood application, drywall fixing fasteners and the automotive fasteners. The firm has integrated its steel wire production capabilities to push its high-quality and highly stable products to global markets and has received recognition among international clients.
Ray Fu's 138,000-square meter area factory, completed in 2019, is already in operation, aiming to increase production and enable Ray Fu to offer quality services at a bigger scale. The new factory combines various production lines, including wire processing, the export of finished wire products, screw manufacturing, heat treatment to increase production capacity and provide a more comprehensive peripheral package. Ray Fu can manage and monitor production to ensure consistent quality control. The firm expects to see annual production capacity reach 72,000 tons, with fastener capacity to hit 36,000 tons.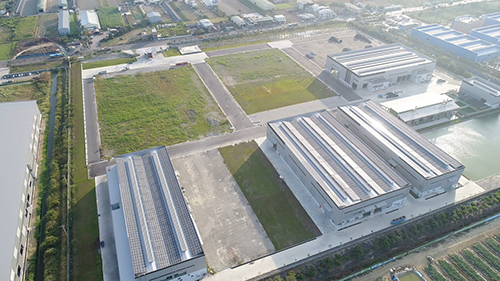 Aerial shot of Ray Fu new facility, covers an area of 138 thousands square meters which will provides customers better services.
Ray Fu has developed its global market by collaborating with wholesalers and distributors in the Americas, European, and Oceania regions. The company supplies an extensive range of products: self-drilling screws, drywall screws, chipboard screws, self-tapping screws, collated screws, window screws, concrete screws, decking screws, roofing screws, machine screws, automotive screws, special screws, bolts, nuts, and washers.
Aiming at providing high-quality products and achieve mutual benefits, Ray Fu has acquired CE DIN EN14592, DIN EN14566, ISO9001, ISO14001, IATF 16949, and ETA certifications. The parent company Chen Nan's laboratory, is accredited by Taiwan Accreditation Foundation (TAF). For future projects, Ray Fu plans to invest R&D into high-added-value products for construction use and uphold its company brand of prioritizing technology, client service, and quality. Ray Fu believes the path to achieving global quality standards is the continual pursuit of improvement.
If you have any questions, please contact:
RAY FU ENTERPRISE CO., LTD.
Email: export@ray-fu.com
Website: www.ray-fu.com