As the only hardware and hand tools trade show taking place this year globally, the three-day Taiwan Hardware Show (THS) will soon kick off on 13th October at the Taichung International Exhibition Center. Positive industry outlook for the post COVID-19 era has led to over 370 companies signing up as exhibitors, in a bid to gear up for a long-awaited economic recovery and plan the next strategic move amid changes in the global supply chain network.

With Taiwan's COVID-19 success story, and the government's relief programs and resources to help expand business opportunities, the organizer Kaigo has also done its share by playing a pioneering role to help businesses thrive in the midst of difficult times. According to Kaigo, Taiwanese businesses exhibit strong determination and ambition to overcome challenges and seize advantage in a downturn. Although some international buyers could not attend the trade show due to the pandemic, many Taiwanese businesses overseas took the initiative to come back to Taiwan, in search of new partnership and collaborations, which has helped THS attract much favorable attention. With help from their Taiwan-based partners, a number of international businesses have stepped up efforts in procurement evaluation and study, a key factor encouraging businesses in Taiwan to forge ahead amid the coronavirus pandemic. Leading hand tool suppliers, such as ReDai, Yih Cheng, Matatakitoyo, Hi Five Products Developing, KST, Machan, Kuani, Ferro-Carbon, Stand Tools, Lih Yann, will be joining the trade show, ready to seize pent-up demand and opportunities post COVID-19.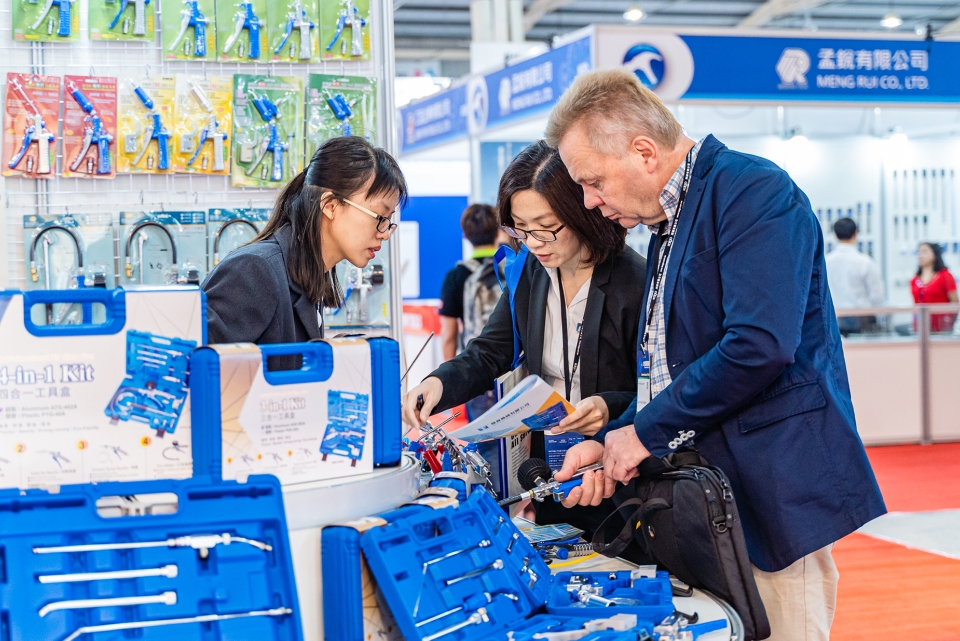 Faced with challenges posed by the pandemic, the trade show this year is taking a multi-pronged approach, first launching a "Premium Product" section on its official website, which features virtual product presentations to give buyers the latest product information. Kaigo has also worked with the Taiwan External Trade Development Council, in short TAITRA, to organize international online sourcing networking meetings, in an effort to help suppliers connect with the right global counterparts. Over 60 international buyers are expected to participate in more than a hundred online business meeting sessions. Taiwan-based representatives and business partners of global industry leaders, including TTI, Stanley, CPI, Test rite, Monotaro, Home Depot, Lowe's, APEX, Fujuwara, TRUSCO, FACOM, Kennedy, Princess Auto, CTC, Wurth, K-Tools, and GGS, as well as local suppliers from related industries, are also invited to join the event offline.
To go one step further, THS this year will take place alongside another trade show—the International Metal Technology Taiwan, or iMT Taiwan—to demonstrate Taiwan's strength in metal materials, processing, equipment and products across the entire supply chain ecosystem. Held in Taichung, Taiwan's industrial cluster renowned for its metal and hand tool industries, THS delivers a one-stop sourcing platform, enabling visiting buyers to obtain product updates, attend factory visits and arrange procurement meetings all in one go.
In addition, Kaigo has invited experts from Feng Chia University, Tunghai University, and the Metal Industries Research & Development Centre (MIRDC) to share their insights on the global economy in the post-COVID era and how industry players could plan ahead for a better outcome. During the event, the China Productivity Center, along with MIRDC, will provide "digital transformation health check" services, helping SME business owners in the manufacturing sector have one-on-one conversations with professional industry experts, and get in-depth insights on production planning and their organizational health.
Health is of course no less important than business. As such, Kaigo will follow preventative measures released by the Central Epidemic Command Center to ensure a safe and healthy environment for all attendees, at the same time helping businesses seize opportunities during the post-COVID economic boom and together setting another record for Taiwan's trillion-dollar metal industry.
For more information on THS and exhibitor promotion packages, please visit http://www.hardwareshow.com.tw, email to ths@kaigo.com.tw, or call Mr. Liu on TEL: +886-2-2595-4212 (ext.725).