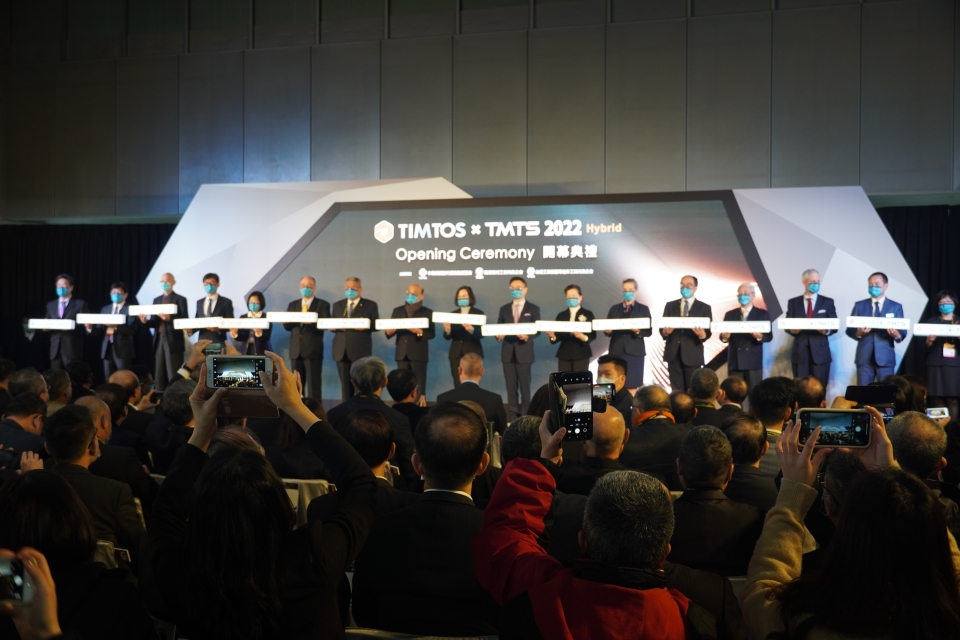 TIMTOSxTMTS 2022 kicks off on Monday`s opening ceremony. Photo credit: Chao Ting Yu/CENS
TIMTOS x TMTS 2022, the first international trade show and the first of its kind on the calendar, kicked off this Monday, with Taiwan Association of Machinery Industry (TAMI) Chairman Larry Wei pointing out that business orders generated from the mega show are expected to hit USD$$1.7 billion (NTD$47 billion).
President Tsai said that in the face of the impacts caused by the pandemic, as well as the geopolitical challenges, and the 2050 carbon neutrality goal proposed by various countries, Taiwan should aim to integrate the information and communication industry, precision machinery industry, and smart manufacturing technology verification field. Potential ventures include forming a national team together, much like how the machine tools sector banned together to ramp up mask production in early 2020 and jointly expand the market as a team effort. "Let Taiwan become the best partner for the overall solution of smart manufacturing," Tsai had said in her opening speech.
James Huang, chairman of the show organizer TAITRA, highlighted two trends at the show this year. One is how the transformation of global supply had into a regional manufacturing scope and the development of emerging fields. The other highlight is the transformation and upgrading of Taiwan's machine tools to smart manufacturing, a trend that is already scaled up in other industrialized countries.
Huang lauded the significance of the TIMTOS x TMTS mega show, as it is not only the largest international exhibition in Taiwan after the pandemic but also the world's premier machine tool exhibition in early 2022.
This year's exhibition brought together domestic and foreign manufacturers from 16 countries or regions, focusing on the two themes of "smart manufacturing" and "smart key components."
The exhibits included Industry 4.0, smart manufacturing solutions, and the complete industrial supply chain of machine tools. A total of 950 manufacturers used 5,100 booths, a record high in scale.
It is worth noting that the machinery industry faces challenges such as border control in various countries, structural changes in the global supply chain, and global warming. The previous global supply chain is transforming into a regional manufacturing model and is developing in emerging fields, such as smart mobility, low-orbit satellites, aerospace, and other industries.
Huang pointed out that another highlight of this year's exhibition is the transformation and upgrading of Taiwan's tool factories to smart manufacturing, a concept that has matured at a faster rate due to the pandemic. With a full year for manufacturers to redirect their focus onto internal R&D, Huang said many suppliers were able to showcase their full potential this year.
Taking the latest smart ball screw developed by Hiwin Technology, a major key component manufacturer, as an example, it has introduced predictive maintenance, edge computing, automated and slight-off factories, industrial Internet of Things, 3D printing, robotics, smart and sustainable products, which are fully in line with Industry 4.0 concepts.
Under the impact of the global epidemic, the export value of Taiwan's machinery industry reached USD$27.8 billion last year, with an output value of about NTD$1.3 trillion, an increase of 27% and a record high. By January this year, this output growth has grown for 17 consecutive months. In addition, the machinery industry provides more than 300,000 job opportunities and plays an important role in stabilizing domestic employment.