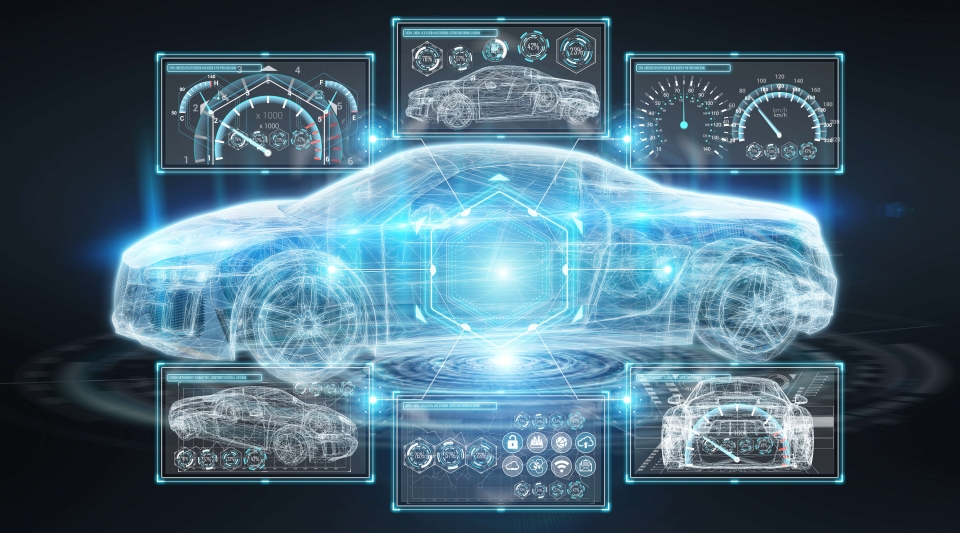 By ARTC and Stephanie Chao
At the end of 2021, the 2021 Meet Greater SouthX5G AIoT Expo kicked off from December 10 to 11 at the Kaohsiung Exhibition Hall, attracting notable exhibitors featuring technologies and products adhering to the latest trends. As the head organizer of the WinBus project, Ministry of Economic Affairs Department of Industrial Technology (DoIT), the WinBus was indigenously designed by the Automotive Research and Testing Center (ARTC). The WinBus was featured in tandem with two other fields, such as drone racing and self-autonomous boats.
Many top government officials, both representing domestic and foreign interests such as the American Institute in Taiwan Kaohsiung branch, had attended the expo. ARTC's WinBus was also available for expo visitors to enjoy the self-driving minibus experience.
Starting off as a MeetUp for entrepreneurs in 2011, the organizers behind the MeetUp group took a decade-worth of networking, experience, resource allocation, and event hosting to bring about the Meet Greater SouthX5G AIoT Expo. The expo showcases technologies and products in eight main areas: AI/5G, software services, VR/AR, digital content, blockchain, new emerging business models, and local entrepreneur startups. This backdrop is especially unique, as Kaohsiung is widely known as a major hub for traditional manufacturing industries.
Aside from letting visitors ride the WinBus, ARTC also hosted a sharing session of the WinBus project, where experts discussed how the WinBus operated, and the process of integrating and verifying the virtual and reality aspects of the technology. More specifically, ARTC shared how the autonomous mini buses can handle unexpected obstacles like pedestrians and animals on the road, or double-parking situations. ARTC representatives also revealed how their autonomous vehicles undergo the certification process for the first time, which is the final safety process to ensure that the self-driving vehicle can safely embark on the road.
The DoIT-backed WinBus project is regarded as Taiwan's first indigenously designed and developed self-driving minibus with high automation features. Human intervention is not required when the vehicle is in operation and carrying out environment sensing functions, regardless it is in a fixed or closed testing area. Both the first and second generations of WinBus were showcased, exhibiting functionalities ranging from ferrying visitors, allowing them to experience taking a self-driving vehicle.
WinBus is equipped with advanced ADAS and autonomous driving ADS technologies, including high precision navigation systems, AI sensing recognition systems, smart decision-making controls, features that are touted by ARTC as the kind that would bridge the last mile for shuttling purposes, tourism, park transportation on fixed routes, and rural area shuttling services. The autonomous minibus also features recognition of traffic lights and V2I to improve traffic intersection safety, as well as diverse sensor integration (lidar, radar, and imaging) for an all-around environment recognition capability and multi-level safety positioning mechanisms (GPS, liDAR positioning, and vehicle information). WinBus can travel up to 50 km/h in speed, maintain a 70 km recharge mileage, and drive up a 20% slope.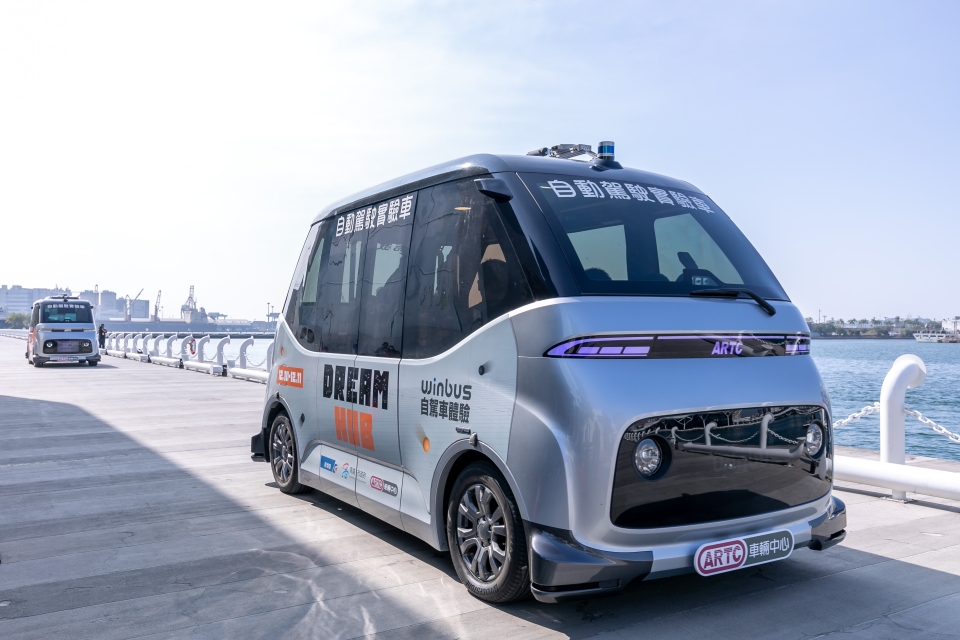 Self-driving electric bus WinBus is seen shuttling passengers in Kaohsiung City during its showcase event at the 2021 Meet Greater SouthX5G AIoT Expo. (Photo provided by ARTC)
Creating Opportunities for Taiwan's Self-Driving Sector
With AI, 5G, Vehicle IoT, and global zero-carbon goals all on the table, electric vehicles are on track to replace ICE cars to become the primary mode of transportation. At the same time, the self-driving vehicle industry is integrating new innovative operations to accelerate autonomous technology development. The WinBus is the combined effort from 20 domestic suppliers connecting resources and integrating software and hardware capabilities into a comprehensive self-driving car industry chain, such as operational services, autonomous driving integration, electrification integration, and vehicle body production.
Taiwan is in a unique position as a major hub for hardware manufacturing and ICT software development, which has created lucrative opportunities in smart services and system integration.
Developing for the Future
Compared to electric vehicles (EV), self-driving cars are still years away from becoming commercialized in the same way as electrified vehicles. This is due to the inherent complexities in developing autonomous systems, and upgrading the existing infrastructure to enable communication between cars and infrastructures, which, like EVs, required technological developments that have only evolved and matured in recent years.
In a phone-call interview with CENS, ARTC research and development department manager Hsu Wen-hsien says despite the pandemic last year, the center has continued to attend large-scaled in-person events in Taiwan to promote their services and WinBus. Hsu says they will continue to do the same in 2022. On the calendar for ARTC's attendance are Taipei AMPA and Autotronics Taipei in April, and the second E-Mobility Show in October.
Hsu also discussed ARTC's presence at the Meet Greater SouthX5G AIoT Expo in Kaohsiung, which represented a blueprint of what's to come for the development and applications of self-driving vehicles in the future. For instance, ARTC has executed WinBus projects in sandbox testing areas that allow for a controlled environment to carry out safety testing and verification of autonomous systems. Sandbox testing was conducted in places such as the Changbin Tourism Factory area in Changhua, where ARTC had the WinBus ferry tourists in the area from tourist attraction to another.
The same logic was applied to ARTC's showcase of WinBus at the Meet Greater Southx5G AIoT Expo. Hsu said the diverse environments and backdrop on the fixed shuttling route near the Kaohsiung Exhibition Center invited many complexities and challenges for WinBus. For example, as Kaohsiung is a harbor city, many parts of WinBus's route at the show had the backdrop of the ocean and ships, complicating the autonomous system recognition capabilities. Buildings near the harbor also tended to look the same, Hsu said.
These examples showcased the difficulties of implementing self-driving vehicles at a greater scale, as unlike EVs, which require necessary charging infrastructure, self-driving cars need to rely on machine learning and recognition of their immediate surroundings as well, making current technologies much harder for a self-driving vehicle designed in one place or country, to quickly adapt to a new environment.
Hsu said that Taiwan's complicated traffic conditions are ironically the perfect environment to train autonomous vehicles. In the future, Taiwan's ICT software and hardware industry advantages could see an addition, as these data sets are invaluable and could potentially become Taiwan's autonomous industry advantage when the technology and production have become mature enough to export.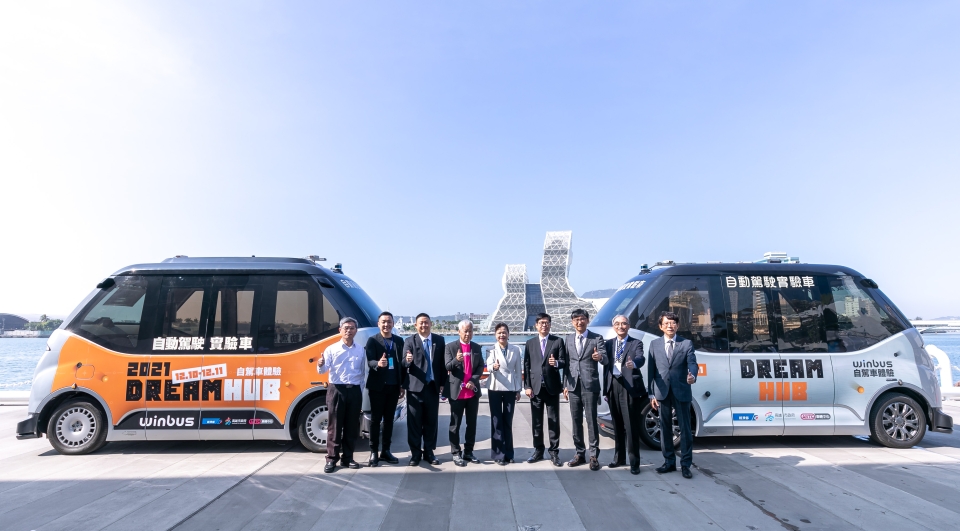 Taiwan's Economic Minister Wang Mei-hua (center), Kaohsiung City Mayor Chen Chi-mai (fourth from right), and other industry and government representatives are photographed with two of ARTC's WinBus at the 2021 Meet Greater SouthX5G AIoT Expo. (Photo provided by ARTC)