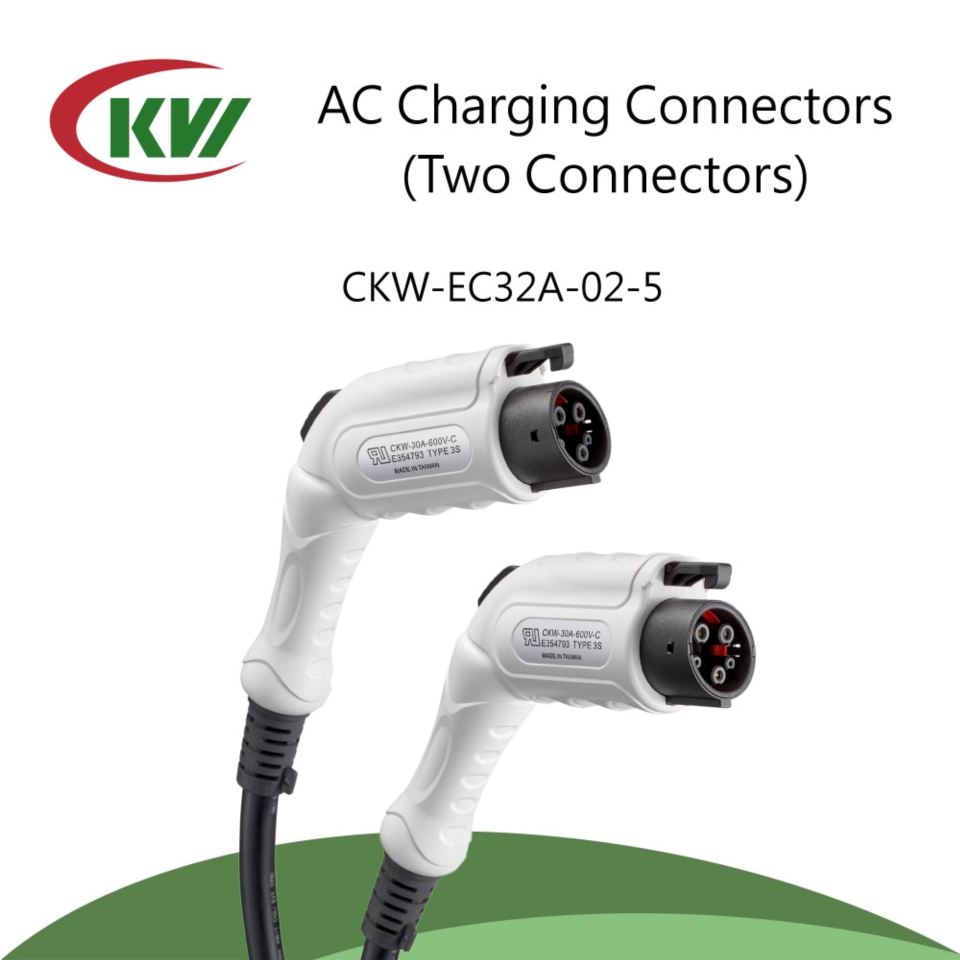 The AC Charging Connectors for Electric Vehicles (Two Connectors) are patented for their unique design. It meets U.S. specification standards and features ease of use. Photo courtesy of Chung Kwang.
As central Taiwan's biggest electric wire producer, Chung Kwang Electric Wire and Cable has been in business for over 43 years, specializing in developing and making various electric wires and cables.
Having seen the writing on the wall in recent years by anticipating the rise of the electric vehicle market, Chung Kwang decided to invest in developing EV charging guns and connectors. In 2013, the company obtained certifications for its charging connectors and charging cords, including 300V/600V EVJT, EVT, EVJE, and EVE specifications according to NEC and UL62 guidelines. In addition, Chung Kwang's products feature weather, oil, water, and UV resistance.
Chung Kwang's UL-certified AC EV charging connectors also feature a special patented design for American-standard plugs, adhering to SAEJ1772 specifications for EV-use cords, and can withstand 16 to 32 amps.
The company's solar connectors and cables are TUV/IEC/UL certified as well, with guarantees for outside reliability for over 20 years. In addition, using industry knowledge, Chung Kwang developed cords featuring underground water and saltwater resistance, underwater motor cables, and wiring cables.
Also within Chung Kwang's product scope include oil-resistant and mobile cords for robotic arms, water-resistant LED street lamp cords, underground garden lamp cables, large-scale industrial-use power cords, cables for digital control interfaces, and low smoke zero halogen power wires, high-speed digital signal control cords, and RHW-2 electric cables for wind power equipment and WTTC electric cords.
Chung Kwang is currently marketing towards the North American region, specifically the U.S., Japan, and South Korea in Asia, Australia, and Europe. To reach more global EV markets, Chung Kwang wants to collaborate with international brands to promote the green energy industry. For more information, please visit Chung Kwang's official website at https://www.cens.com/ckw (Ashley Liu)