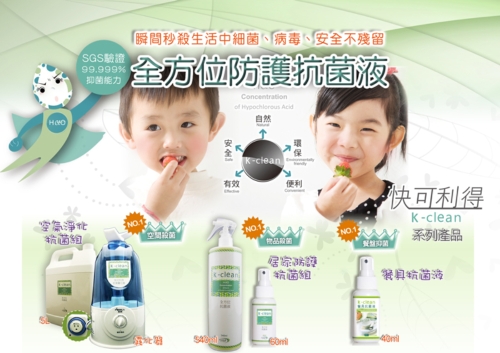 K-clean Extensive Antibacterial Liquid
Country of Origin:

Taiwan

Material:

Hypochlorous Acid (次氯酸)、Purified Water
Detail Specifications / Descriptions
HClO Antibacterial Series Products & Atomizer
·Convenient
·Anti-bacteriaquickly
·Safe
·Non-residual
·Anti-enterovirus
·Restrain the growth of Dustmite

· K-clean extensive antibacterial liquid is thelatest micro-molecule antimicrobial hypochlorous acid solution from the UnitedStates, The antibacterial composition is a weak acid - hypochlorous acid, it isthe same as human white blood cells released for disinfection. The SGSinspection proved that it can instantly destroy a variety of bacteria andviruses. After microbial contact which will oxidation-reduction to water withno residual, that is harmless to the environment and human.