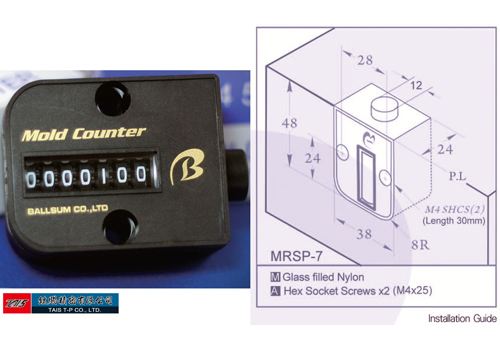 Ballsum Mold Counter
Model:

MRSP-7, MRSP2-7

Country of Origin:

Taiwan

Material:

POM

Color:

Black
Detail Specifications / Descriptions
BALLSUM MOLD COUNTER is 100% made in Taiwan according to Japan standard with very good quality. This is a durable mold counter compare with others of American and European well-known brands. It is our belief that the competitive price of BALLSUM MOLD COUNTER will win a victory over the others low-priced counter made in China. To choose BALLSUM MOLD COUNTER, you will gain the worth more than its costs.

Patents 30 years experience Taiwan & China patented.
Warranty 2 million times guaranteed.
Working Temperature 120℃ (250°F) and 160℃ (320°F) are alternative.
Mechanical Structure Needs on batteries Highly durability.
Sensitivity 1.5mm~2.0mm effective distance.
Non-resettable Reliable prevent dispute.
7-digits Satisify your all need.