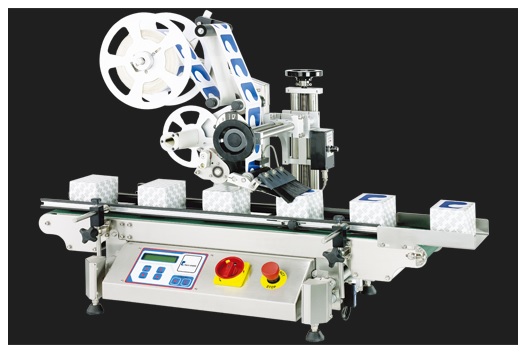 Top Labeling Machine
Model:

ELF-20
Detail Specifications / Descriptions
Introduction---
ELF SERIES LABELER has the most economical and efficient in terms of capabilities.The aluminum and stainless steel design makes it portable and durable. The user friendly operating system and microprocessor control has many added features that can boost production efficiency, wide application range up to 180mm packs. ELF series is the smart choice for the small production runs when efficiency and equipment cost is the major consideration. ELF series labelers are the best helping hands available.



Features---
Labeling counter----
Keep tracks of the quantity of products processed by the machine.

Pre-set---
a quantity can be preset for a production batch and the machine will automatically stop as the quantity is attained.

Label position set---
used to delay label application and adjust label position by simply touching the control screen.

Five memory slots---
or fast and easy label set-up.

Printer interface---
1. Bilt in operatino manual and instructions makes training very easy.
2. In case of improper operations, the machine will instruct operator on how to operate the machine properly.
3. Just press the label length set to set the desired length and the machine will operate smoothly.
4. Easy and fast adjustment for perfect label positioning.
5. When the counter reach the pre-set setting, it will automatically stop for convenient production control.
6. Convenient synchronized speed selections.
7. Low or missing label detection on the reel to prevent mislabeling.
8. Printer speed selection for clear prints.
9. 30 memory slots to store labeling parameters for future use.
10. For single product conveyor lines, it can automatically start itself and label when power is restore.
11. The microprocessor control can be upgraded to accommodate other features to meet special needs in the production line.



Specification---
Voltage: 110/220 vac 50/60 hz 1 phase
Power: 400va
Dispensing Speed: 16 m/min.
Drive: 2 Phase Stepper Motor
Label Size: H 120 mm x L 300 mm max
Conveyor Width: 160 mm
Dimensions:
Length: 1,100 mm
Width: 550 mm
Height: 820 mm



Material---
All stainless steel and anodized aluminum construction.